BioTek Cytation™ 5 Cell Imaging and Synergy H1 Hybrid Multi-Mode Reader
BioTek Cytation™ 5 Cell Imaging and Synergy H1 Hybrid Multi-Mode Reader
BioTek Cytation™ 5 Cell Imaging Multi-Mode Reader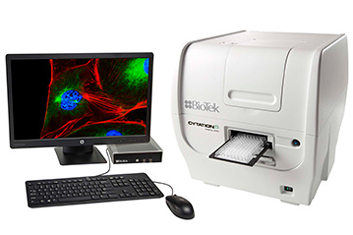 Cytation™ 5 combines automated digital microscopy and conventional microplate detection in a configurable, upgradable platform. The microscopy module offers up to 10x magnification in fluorescence (DAPI and GFP), brightfield, high contrast brightfield, color brightfield and phase contrast for maximum applications reach.  The multi-mode detection modules include filter- and monochromator-based fluorescence  detection, luminescence and UV-Vis absorbance detection. Gen5™ software provides complete control over all imaging and data capture, plus powerful image and data analysis.
Synergy H1 Hybrid Multi-Mode Reader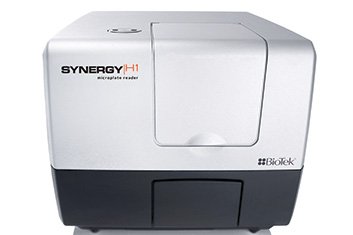 Synergy™ H1 is a configurable multi-mode microplate reader. Choose monochromator-based optics for flexibility, filter-based optics for sensitivity, or both…BioTek's patented Hybrid Technology™ offers high-performance and applications versatility in a modular platform to expand as your laboratory's needs change. Top and bottom fluorescence intensity, UV-visible absorbance and luminescence detection are available to meet many life science research requirements.
Instrument Reservation
Internal users can reserve an instrument. For all other instruments and services, please contact the Facility Manager.
Make a Reservation