Proteomics Facility
The Proteomics Core provides protein and proteomic analysis instrumentation for protein identification, characterization, and quantification.
Proteomics Facility
The Proteomics Core provides protein and proteomic analysis instrumentation for protein identification, characterization, and quantification.
About
The Proteomics Shared Resource Facility's mission is to provide well-maintained, state-of-the-art instrumentation and fundamental proteomics expertise to the Brown University and Rhode Island-EPSCoR scientific communities. We aim to be a focal point of intellectual activity in proteomics by enabling nationally recognized proteomics research within Rhode Island. We welcome inquiries from scientists and teachers seeking information regarding how we may assist them in furthering their research and educational goals. The facility's function is catalyzed by its Directors, a responsible Facility Manager and a knowledgeable advisory committee. Together their research interests are based on the pursuit and implementation of proteomics approaches to biological inquiry.
As an NSF EPSCoR funded laboratory, the Proteomics Facility has a broadly-inclusive philosophy to ensure rapid and equal access to the facility's services for the entire Rhode Island research community. In addition to the acquisition of instrumentation, the Proteomics Core Facility will undertake the training of research in emerging proteomic techniques, a component that is essential to maintaining a productive and professional level of service. The Proteomics Facility has a strong commitment to be at the leading edge of current and developing technologies and provides consultation on their application.
Find us at CoresRI!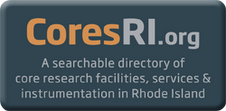 Service Request and Reservations
E-mail Nicholas_DaSilva@brown.edu to reserve time on the Q Exactive Mass Spec.
Please note, the following biophysics instruments are now managed under the Structural Biology Core:
Fluoromax - 4

Jasco J-815

Nanodrop 8000

Microcal Isothermal Titration

Microcal VPViewer

Nanotemper MST
Rates
FY23 Rates
| Service | Units | Internal Academic Rates* | External Academic Rates |
| --- | --- | --- | --- |
| Q Exactive Hybrid Quadrupole-Orbitrap Mass Spec | Hour | $9 | $14 |
|   |   |   |   |
| Custom Service or Setup Fee  | Hour | $72 | $115 |
*Rates for Brown and Rhode Island Academic Institutions and Hospital Affiliates
Rates Effective 11/01/2022
Contact/Location
Location
Rhode Island NSF/EPSCoR Center for Proteomics
Brown University
Laboratories of Molecular Medicine
70 Ship Street, Room 339
Providence, RI, 02903

Directions
Resources for Grants
Proteomics Core Facility. The proteomics facility, located at the Laboratories for Molecular Medicine, is directed and staffed by a PhD-level scientist. Facility instrumentation includes a Thermo Scientific Q Exactive™ Hybrid Quadrupole-Orbitrap Mass Spectrometer, a Jasco J-815 Circular Dichroism Spectrometer, MicroCal VP Differential Scanning Calorimeter, a MicroCal Isothermal Titration Calorimetry iTC200, HORIBA Jobin Yvon FluoroMax-4 Spectrofluorometer.
Scientific reproducibility is enhanced through scientific rigor and transparency.  Scientific rigor is the strict application of the scientific method to ensure unbiased and well-controlled experimental design, methodology, analysis, interpretation, and reporting of results. The Proteomics Facility is committed to supporting research excellence by adopting the following practices of scientific rigor.
Purchase and maintain a variety of high-quality instruments from established vendors such that the best instrument is available for any given research analysis.
The equipment is overseen by highly trained Proteomics Facility experts and is well maintained under service contracts or funds budgeted for annual preventive maintenance and repairs.
The Proteomics experts are available for experimental design consults or troubleshooting.
All Proteomics Facility users are thoroughly trained by the expert staff, one on one, and not granted access to the instruments until they are deemed to be suitably trained. 
All newly trained users are also required to use the Proteomics instruments during daytime hours to increase interaction with the expert staff members.
Acknowledgment
This facility was supported in part by grants from the National Institutes of Health (NIH), the National Science Foundation (NSF), Brown University's Division of Biology and Medicine and Provost's office.
We request that users of our facility please use this statement when acknowledging work performed in the facility:
"This research is based in part upon work conducted using the Rhode Island NSF/EPSCoR Proteomics Share Resource Facility, which was supported in part by the National Science Foundation EPSCoR Grant No. 1004057, National Institutes of Health Grant No. 1S10RR020923, S10RR027027 (Orbitrap XL ETD Mass Spectrometer), a Rhode Island Science and Technology Advisory Council grant, and the Division of Biology and Medicine, Brown University."