NanoDrop One Spectrophotometer
NanoDrop One Spectrophotometer
Thermo Scientific NanoDrop One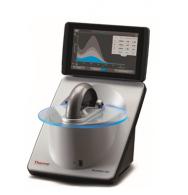 The NanoDrop One measure absorbance and is an alternative to a traditional cuvette spectrophotometer and allows the convenient measurement of small volumes (approximately 1.5 ul) to determine accurately RNA and DNA concentrations. The software displays the concentration in ng/ul together with some QC metrix. The use of the Core Facility Nanodrop is restricted to nucleic acid measurement.
Instrument Reservation
Internal users can reserve an instrument. For all other instruments and services, please contact the Facility Manager.
Make a Reservation